SEO Report for megatimer.ru
December 28, 2019 9:15 AM
OVERVIEW
• Age
7 years, 8 months, 27 days
• Alexa Rank
#851.365
, megatimer.ru is in the world's
top 1 million
websites
FREE FORM BUILDER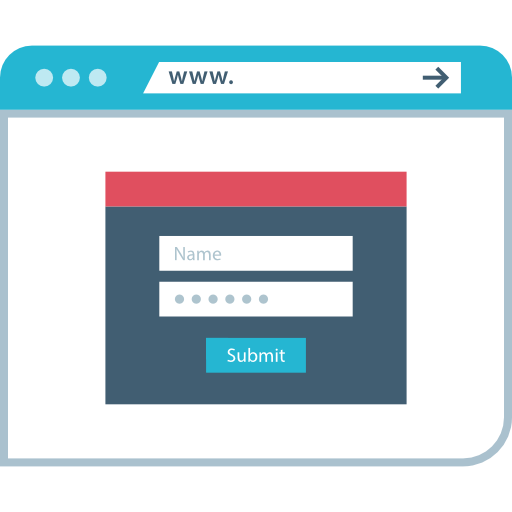 Free online forms for your website
Use our free online form builder to create any type of form for megatimer.ru.
Beauty and simplicity.
Use templates. No coding. Embed anywhere. Get emails. Collect data.

opens a new window
SEO
This website is not SSL secured (HTTPS), the certificate issued by Let's Encrypt has expired on January 22, 2020.
Бесплатный таймер обратного отсчета для сайта онлайн - Countdown timer
Length:
116
(recommended: 10 to 70)
Бесплатный онлайн таймер и счетчик обратного отсчета с функциями зацикливания и отложенного запуска. Скрипт счетчика обратного отсчета html вставляется без знаний программирования.
Length:
333
(recommended: 50 to 160)
Desktop Version
Бесплатный таймер обратного отсчета для сайта онлайн - Countdown timer
https://megatimer.ru
Бесплатный онлайн таймер и счетчик обратного отсчета с функциями зацикливания и отложенного запуска. Скрипт счетчика обратного отсчета html вставляется без знаний пр...
Mobile Version
https://megatimer.ru
Бесплатный таймер обратного отсчета для сайта онлайн - Countdown timer
Бесплатный онлайн таймер и счетчик обратного отсчета с функциями зацикливания и отложенного запуска. Скрипт счетчика обратного отс...
Great
, language/character encoding is specified: utf-8
No 301 redirects are in place to redirect traffic to your preferred domain. Pages that load successfully both with and without www. are treated as duplicate content! Not all versions of your page point to the same URL.
Great
, the domain URLs look clean.
Attribute

Value

ⓘ

viewport

width=device-width, initial-scale=1

ⓘ

robots

index,follow
SEMANTIC ANALYSIS
ⓘ The owner has associated the following topics to the website.
ⓘ The results of our semantic analysis are shown below using the website's language.
They are the main concepts covered by megatimer.ru.
Each concept has a confidence score. The higher it is, the more important the topic is relative to the page.
Topics
Сценарный язык
Confidence: 90%

Сценарный язык (язык сценариев) — высокоуровневый язык сценариев () — кратких описаний действий, выполняемых системой.
Разница между программами и сценариями довольно размыта.
Сценарий — это программа, имеющая дело с готовыми программными компонентами.
HTML
Confidence: 85%

HTML (от  — «язык гипертекстовой разметки») — стандартизированный язык разметки документов во Всемирной паутине.
Большинство веб-страниц содержат описание разметки на языке HTML (или XHTML).
Язык HTML интерпретируется браузерами; полученный в результате интерпретации форматированный текст отображается на экране монитора компьютера или мобильного устройства.
Таймер (информатика)
Confidence: 68%

Таймер (от) — в информатике средство обеспечения задержек и измерения времени средствами компьютера.
Бесплатное программное обеспечение
Confidence: 68%

Бесплатное программное обеспечение (от  — «бесплатный» и  — «программное обеспечение») — программное обеспечение, лицензионное соглашение которого не требует каких-либо выплат правообладателю.
Бесплатное программное обеспечение обычно распространяется в бинарном виде, без исходных кодов и является проприетарным программным обеспечением.
Сайт
Confidence: 66%

WEBSITE SPEED
✅ megatimer.ru website speed is normal. Page speed is important for visitors and search engines.
Get insights to improve your page loading time.
Page Loading Time
1.3s
This domain loads at the median speed of 1.3 seconds.
Speed Percentile
66%
megatimer.ru is faster than approximately 66 percent of the web. Your website page speed needs to be as fast as you can make it, without compromising the customer experience.
A good goal to achieve is a loading time of 2 seconds on desktop and mobile devices.
TRAFFIC
ⓘ This website is ranked #851.365 by Alexa.
This rank is traffic based. The lower the rank is, the better the domain is ranked.
Daily visitors by country
Russian Federation (85.7%)
Others (14.3%)
Traffic country ranks
| | |
| --- | --- |
| Country | Rank |
| Russian Federation | #86.140 |
LAYOUT
ⓘ

Doctype

HTML5

ⓘ

Responsive website, mobile-friendly.

Mobile Rendering
This website seems to be optimized for Mobile Visitors.
Phone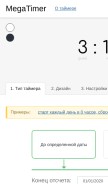 Tablet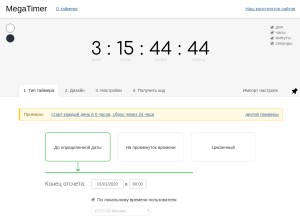 Main colors used
ⓘ

These are the main

HTML color codes

used by this website.

58% #ffffff
35% #f0f0f0
3% #fffff0
2% #fff0e0
1% #f0ffff
0% #60c0e0
0% #b0e0f0
0% #f0fff0
0% #f0f0ff
0% #70d0f0
0% #fff0ff
0% #e0d0b0
Main HTML tags
✅
Headings

Great, we found headings on this page.
Top level heading
Таймер обратного отсчета для сайта
2nd level heading
Счетчик обратного отсчета на сайт
Обратная связь
4th level heading
Примеры:
❌
Alt attributes

We found 1 images on this website.
1 ALT attributes are missing on your image tags.
Alternative text allows you to add a description to an image.
Google rely on alternative text attributes to determine relevance to a search query. Alternative text also makes an image more likely to appear in a Google image search.
It looks like you're missing alternative text for 1 images on megatimer.ru. Check your website to make sure it's specified for each image on the page.
LINKS
ⓘ
There is a total of
5
links on the homepage of this website.
ⓘ

Internal links :

4

ⓘ

External links :

1

DOMAIN
ⓘ

Registration Date

01/07/2015

7 years, 8 months, 27 days ago

ⓘ

Expiration Date

01/07/2021

Expired
Nameservers

SERVER
ⓘ

Service Provider (ISP)

Selectel

ⓘ

IP Address

5.188.114.126

ⓘ

Country

Russia

ⓘ

Region

St.-Petersburg , St Petersburg

ⓘ

Latitude and Longitude

59.8889 : 30.3296
BROWSE SEO REPORTS
| | |
| --- | --- |
| Domain | Alexa Rank |
| phuketgazette.net | No data |
| exelatech.com | #294.488 |
| decolar.com | #3.605 |
| reviewbuzz.com | #295.862 |
| megatimer.ru | #851.365 |
| hurdlr.com | #238.137 |
| loveread.ec | #6.609 |
| 4sync.com | #75.939 |
| kochind.com | #164.285 |